People know they are home when they get to their front door. At American Windows Center, we believe you should have a beautiful welcome to your home with a stunning door or entryway. That goes for your dog, too. Think of all the beautiful memories that enter your entryway every year. From a San Francisco Victorian to the beauty of the Oakland Hills. From picturesque Marin to the bungalows in Palo Alto..make your entrance in an entry door from American Windows Center. Whether you live in San Jose, Santa Clara or Sunnyvale, entry doors make all of the difference in your home's appearance.
CALL US at 1-800-514-4434 or email us to get a quote.

Create an entryway that reflects your unique style. With Amerimax Custom Windows and Doors, your
entry door
will be configured to your specification to ensure it fits exactly into your home and provides the superior appearance that sets your home apart from the rest.
Check out Amerimax
Give Your Pet The Freedom They Need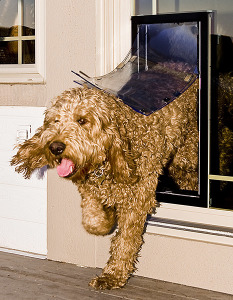 You and your pet will relish the freedom a pet door brings to your lives. You do not have to rush to get home in time to let your pet outside and your pet does not have to wait on you to notice they need to go outside. American Windows Center installs customized pet doors into your home to fit any size dog or cat and keep your home and pet safe.
Quality – Extruded frames will not fade, crack, break, or rust.
Safety – Soft, flexible PVC vinyl flaps allow for easy pet access with no exposed screws to harm your pet.
Security – Impact resistant security cover with positive action pin lock increases product integrity.
Efficiency and Protection – Double flaps, nylon pile weather stripping, multiple alnico magnets for increased energy efficiency and safeguard against wind, insect intrusion, and unwanted animals.